KUGR's stream for your iOS or Android phone is getting a facelift and you will need to switch to our brand new web app to get the next game or if you simply want to listen to some great music. Follow the easy steps below to get our new app on your homescreen!!
iOS Users:
Read each step and then click HERE to Open/Launch the app on your phone.
Click on the little square with the arrow pointing upward directly under the play button.

3.  Click on "Add to Homescreen" icon.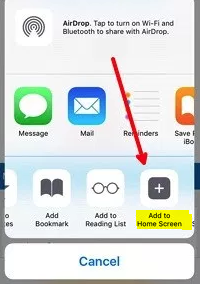 Click "Add" on the top right corner to apply this to your phone.
Android Users:
Read each step and then click HERE to Open/Launch the app on your phone.
Click on the three dots
Click on Add to Home screen